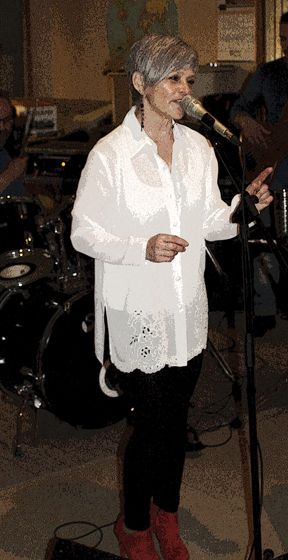 "Gunn" - Jill (Bellamy) Brydges 
  Vocals 
Jill has been singing as long as she can remember. Using the clothesline platform as a stage, she entertained the neighbourhood in St. Vital, Manitoba with popular songs of the late 50's, early 60's. In first grade she joined the school choir and throughout her school years sang in choirs, concerts, plays, folk clubs and Kiwanis Music Festivals. Having moved to Calgary with her family in 1968, she joined her first band in 1970 at the age of 15. In 1971 she joined Geppetto with Greg Gunhold and Gary Weiss. Coming full circle, she is thrilled to be working with them again in Gunn. 
Geppetto enjoyed some success as a young group, gathering quite a following and opening for Crowbar several times, Willy Dixon, and well known artists at Summertown at the Calgary Stampede; Flash Cadillac & The Continental Kids, Dr. Music and Redbone. She later sang with a revamped Happy Feeling, Appleshine and other popular local groups. 
In the late 70's she provided background vocals to the guests on the weekly televised "Wayne Vold Show" for CFCN, sharing the stage with Mickey Gilley, Eddie Rabbit, Ian Tyson, Sylvia Tyson, Stella Parton, Gary Ffellgard, T.G. Sheppard, Jessie Winchester, Valdy and many others. She also sang with guest artists on Miss Calgary Pageant broadcasts for CFCN, with many well known musicians in the orchestra. Jill did several stints with Bobby Curtola, including a small tour. She did studeo recordings of jingles and vocals on many recordings over the years, also sang in many clubs, such as Marco's in the Calgary Inn, in "Sure Thing" led by the excellent guitarist Gary Wolfe, sharing the vocal duties with Juno nominated Iris Larrett. 
As a veteran vocalist over the last 47 years, Jill has sung all varieties of music, in all varieties of groups and venues, taking pride in her versatility. Having spent the last 20 years in the house trio at the Calgary Petroleum Club entertaining Calgary's elite and retiring from there at the end of 2015, she is ready for this new challenge. Joining Gunn with exceptional musicians Greg Gunhold, Gary Weiss, Jim Irwin and Brock Gillis, Jill feels incredibly blessed. And home.