The Calgary Blues Music Association has inducted GUNN Hammond B3 player Brock Gillis into the Hall of Fame as Keyboard Player of the Year as announced at the MidWinter Blues Fest.  Other awards went to Bassist Bill Eaglesham, Guitar - Brother Ray Lemelin, Drummer Andrzej, Hornplayer Dave Babcock,  Sherman Doucette on Harmonica, and Vocalist Georgette Fry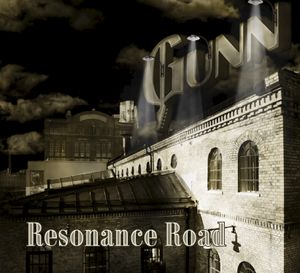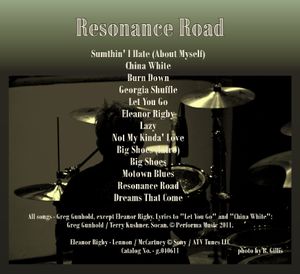 Jeff Neill - Streetheart
Gunn/Resonance Road
Resonance Road is the 2011 recording from the Calgary based band Gunn.
 
Gunn was comprised of members Greg Gunhold, Brock Gillis, Danny Zane, Sally Chappus and Corinne Buschmeyer at the time of recording.The current lineup is: Greg Gunhold, Brock Gillis, Gary Weiss, Jill Brydges & Viktor Szurozcki.
 
Right out of the gate, Resonance Road jumps out at you with Sumthin' I Hate and it's apparent from the intro that this is a highly skilled group of players.
 
Greg Gunhold's guitar playing is world class and Corinne Buschmeyer's intimate vocals pull you right into her story. Brock Gillis' melodic expertise on the B3 provides the perfect harmonic foil to Greg's skillful guitar playing while Danny Zane and Sally Chappas keep things groovy and swingin' throughout this recording.
 
An impressive collection of tunes written by Greg Gunhold, Resonance Road covers a wide variety of styles that maintain a rootsy and authentic vibe throughout and at the same time, provide a updated and contemporary take on those traditional genres.
Resonance Road's original songs are complimented by a moody and ambitious and cover of The Beatles', Eleanor Rigby. Gunn takes the Lennon/McCartney classic and make it their own, injecting a cool bluesy/jazz feel into this iconic song. Not always an easy feat to do with Beatles material.
 
This is funky, sophisticated and confident stuff from a band on top of their game.
 
Their dedication to craft and excellence is apparent throughout this recording. Expertly produced and mixed by Greg Gunhold, Resonance Road is an impressive offering from beginning to end. As mentioned in the jacket credits, "Gunn is about a lifetime of influences. This is a labour of love."
 
That love is up front and apparent all over this recording.
 
Well played Gunn, well played.
~ Jeff Neill
Submitted by cashbox on Fri, 11/11/2011 - 01:53 Music Reviews Reviews

Jaimie Vernon


GUNN
Resonance Road
Independent


Canada has had a half-century love affair with pure Rhythm 'n' Blues only rivaled by our century long love of Country & Western. For a while in the 1960s R & B was revered and became the only legitimate artistic pursuit for 'real' musicians outside of classical and jazz genres. But in the wake of the British Invasion's dominance of pop culture R & B's most prominent players were mined for pop and rock music pursuits and the genre itself was pushed back into juke joints, back room bistros and small town beer halls.

Unbeknownst to the world at large, the R & B movement survived and has grown a solid roots movement. But this time the players aren't easily swayed into selling out their craft for commercial interests. The acts are digging in their heels and developing a culture of festivals and steady paying gigs that are consistently attracting purists of every musical stripe. It's bands like guitarist Greg Gunhold's GUNN that are leading the charge. 



Resonance Road is a slick, incredibly produced "musician's" album. Gunhold takes the listener on a multitude of stylistic rides as a showcase for his tasty virtuoso guitar workouts which clocks in at nearly 70 minutes. It would be a bold gamble for any indie act were it not in the hands of his crackerjack band: Danny Zane (bass), Brock Gillis (Hammond B3), Sally Chappus (drums), and Corinne Buschmeyer (vocals).

Buschmeyer is used to great effect on the first half of the album adding a pure vocal narrative to some fairly straightforward song arrangements. And the lyrics aren't your standard blues contrivances. Both Sumthin' I Hate About Myself (It's You) and Burn Down puts a fresh coat of paint on the tried and true "baby, you done me wrong" genre and it's a welcome relief. The song arrangements stray far enough away from the genre's I, IV, V blueprint enough to make them uniquely GUNN's. Buschmeyer's vocal on Let You Go makes it a truly stand out track on the CD; There's also a smooth jazz/blues fusion rendition of The Beatles Eleanor Rigby that Buschmeyer handles with aplomb. Not since Al Kooper's version on 2004's 40 Years Ago Today: A Tribute to the Beatles has the song been given a respectful re-interpretation that works.

The album's other face is a spotlight on Gunhold's original instrumental guitar workouts where he meticulously crafts tasty melodic solos in Allman Brothers territory (Lazy), Pat Travers (Big Shoes), and a battle of the guitar personalities with a Billy Gibbons vs. Joe Satriani showdown (Resonance Road). The tastiest passage could be the cross pollination of Amos Garrett blues & Pat Methany jazz on Motown Blues where we also get a showcase for Gillis' Hammond B3 playing. 

Good to hear Canadian Rhythm 'n' Blues making a comeback on its own terms.

 
BeatRoute Magazine, May 2010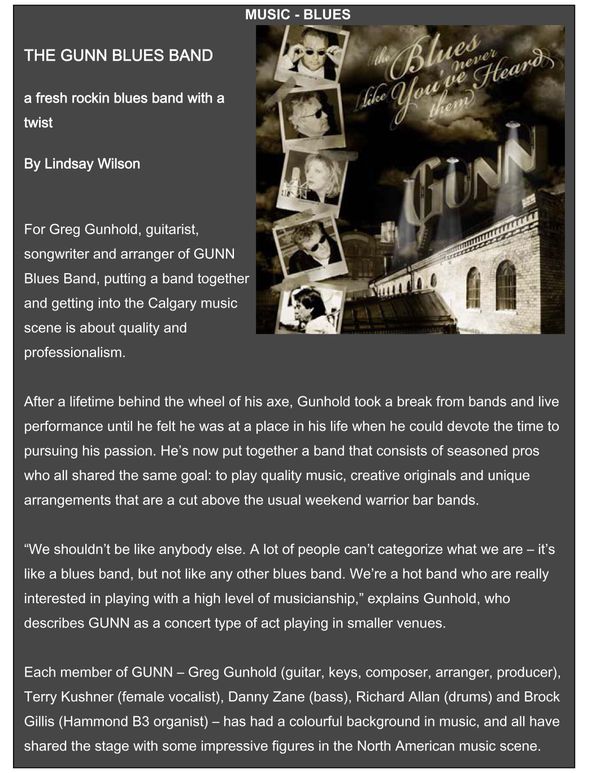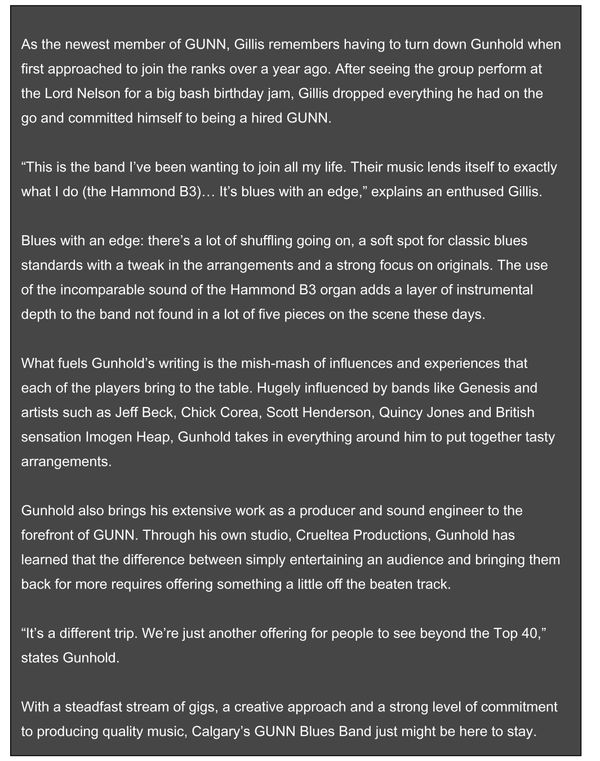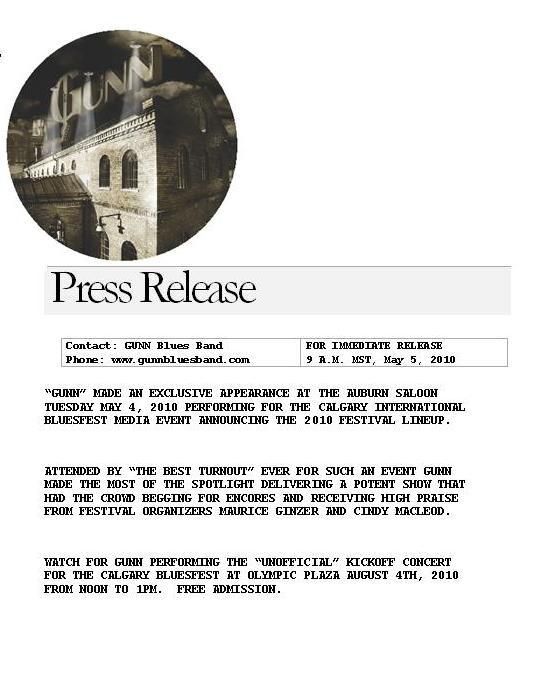 www.entertainmentagency-calgary.com/

Go and See the Calgary band 'GUNN' wow !! talk about being blown away by one of the best bands I have heard in Calgary in years. If you haven't been to see "Gunn" you are missing out on a wicked musical experience -- Greg ( the guitarist and songwriter) has assembled a group of musicians to play his music who are absolutely second to none and the result is a sound that one can only describe as electrifying. Corrine Buschmeyer, the lead vocalist has a voice that is smooth as silk, but can change in an instant to raunchy and bluesy. I can't really describe the music except maybe blues fusion, but at times it was rocky and driving. Brock Gillis, the keyboard player performed on his Hammond B 3 better than I have ever heard him play, in a style that can only be described as "World Class" Sally Chappus is a master percussionist and this band finally shows her unbelievably awesome talents as a drummer. She and the bass player Danny Zane work together to create a bottom end that sounds like a duo that has worked together for 20 years. In each of Greg's songs, I was having trouble trying to follow the tempo changes and he is a master song writer the way he incorporates his awesome guitar stylings into the mix. This my friends IS THE TOP ACT IN TOWN !!!!! GO SEE GUNN !!!!!! By: Jack Carney -  Carvin Entertainment Group