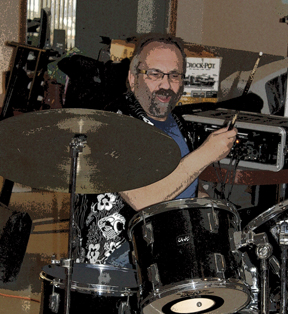 "Gunn" – Gary Weiss 
Drums 
Gary has a vast array of percussive experience which began accruing at the age of 12 when he saved enough money from his paper route to buy a snare drum which promptly landed him into his first band! It was in that first young band which brought him, and current Gunn guitar man, Greg Gunhold together. In those early days, drumming and that great 60s and 70s music of the day consumed him and set the stage for the development of a drumming approach and style that has served him well over all these years. 
As Gary's musical tastes and interests progressed, he became exposed to the likes of Billy Cobham, Chick Corea and Stanley Clarke – and that whole cool realm of progressive jazz fusion music. This propelled him into pursuing a better, well-rounded drumming experience. He eventually enrolled at Utah State University as a percussion major and sought out as many drumming opportunities as he could. He auditioned for, and landed percussive positions in the University's Jazz Ensemble, Marching Band, Percussion Ensemble and Philharmonic Orchestra performing extensively with all of them. It was that 18-piece jazz band, though, which opened his percussion world to a whole other progressive level and to which a lot gets reflected throughout the jazz and blues influences found in the Gunn Blues Band current song repertoire. 
Upon completing his schooling, he became a member of Toronto's Attic Recording Artists, The Rick Worrall Band, and toured extensively with that band throughout Western Canada. Between this and later participation in other Calgary rock groups such as Desperate Fun, Contraband and the White Zone Project, Gary shared the stage with such major artists as Joe Cocker, Redbone, and Procol Harum. 
Gunn is the exact project that allows me to bring my drumming experience into a challenging and exciting realm of music. It weaves all that I've learned into one musical experience, which for the listener, will expose them to a very unique brand of blues. It ranges from the obvious legacy blues to a kind of blues that is sometimes heavy, funky, soulful, and jazzy and then moves you through to the downright sophisticated and majestic. "It's all I've ever wanted and is such a kick to play – I have never heard anything like it – and to play it, is just unreal!"