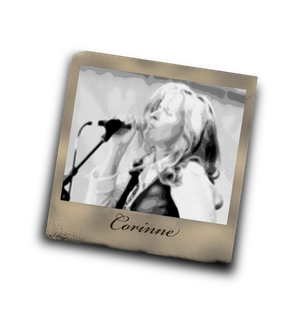 Corinne Plomish - "The Singer" (and goddess of soul)
corinne@gunnbluesband.com
Corinne has been a veteran of the music business for over 25 years. Originally from Hamilton, Ontario, she has travelled, performed and touredall over the world working with some of the best. Those artists include:

Daniel Lanois, Dan Hill, Bryan Adams, Martin Short, The Beach Boys, Billy Preston, Air Supply, Dwight Yoakam, Arsenio Hall, Dick Clark, David Clayton Thomas, Keifer Sutherland, Alfie Zappacosta.
Her voice has been heard on hundreds of jingles: 7-up, Royal Bank, Canada Trust, Safeway, Co-Op, Molson, Toronto Eaton Centre, Calgary Eaton Centre, Edmonton Power, Parkland Mall to name a few.
She has had the honour of performing a "Royal Command Performance" for Prince Andrew and the Duchess of York in Toronto at the infamous Ontario Place Forum.

T.V. Credits: American Bandstand, Solid Gold, The Arsenio Hall Ahow (Los Angeles)

Corinne brings this astonishing wealth of experience to the Gunn experience: intense, creative and passionate. She is a consummate front person leading the audience to a greater appreciation of the musical journeys Gunn goes on.

She is – in short – another compelling reason that Gunn is changing perceptions as to what the blues can be.

And that's a very good thing.